VOIP Systems & Cabling 
VoIP is becoming increasingly popular due to its versatile features that many small businesses might overlook, from bandwidth utilization and call forwarding to auto attendant and conferencing.  Does your office or new business need new VOIP or Voice lines installed? Are you looking to switch to a VOIP PBX systems that requires VOIP Phones? Is your business in need of Phone Wiring Long Island, VOIP Cabling, Long Island Voice/data Wiring?
VoIP services from Techsonduty give you enterprise level phone features without breaking the bank. With our telephone systems, you will be able to customize a solution to meet and exceed your unique business needs which in turn increases workflow, efficiency and productivity.
However, your networks and communications depend on the quality of your cabling and wiring. Proper planning, design, installation and maintenance of this infrastructure can have a huge impact on your business' day-to-day operation.
Techsonduty provides professional cabling and wiring services that support systems and are scale-able to accommodate your needs while being easily integrated with the latest technologies to help you stay more competitive.
Phone Wiring Long Island, VOIP Cabling, Long Island Voice/data Wiring
Data cabling (cat5e, cat6, & fiber optic LAN cable installation)
Patch panel installation & termination
Voice & telephone cabling / wiring
Wifi / wireless networks
Fiber optic installation
Business phone systems
Network cabling and hardware testing & certification
Security & Surveillance Camera Systems
Friendly, On Time & On Budget
Types of Phone Wiring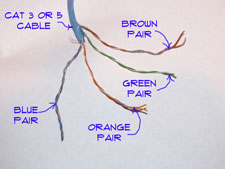 The older your home the better chance you have of finding different types of phone wiring. For home built in the last ten years the wiring is supposed to meet Cat 3 Standards. Cat 5 wire now being the preferred wire. The advantage to this type of wire is that it eliminates 'cross talking' (hearing another conversation over your line) and interference from radio frequencies.
Homes that are older than that might have the 'quad' wiring that was used for several decades. This wire had four conductors, not twisted as the new standard requires, they were red, green, yellow and black. Phone jacks and other phone devices that you purchased would be color coded to match this wire. The red and green wires would be the primary line and a second line could be hooked to the yellow and black wires.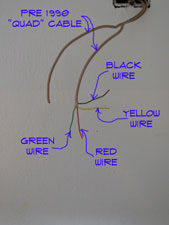 In theory this would work fine. The problem is that they are not twisted pairs and are susceptible to the 'cross talking' and interference previously mentioned. This type of wire may be fine for a single line or could even accommodate a fax line. You may get the fax noise bleeding into the voice line if you use it this way.
If you are planning on a home office or multiple hard wired lines for whatever reason, you will want to upgrade the wiring. Cat 5 Wire comes with four twisted pairs. The colors are Blue/White with Blue stripe (Primary Line); Orange/White with Orange stripe (Second Line); Green/White with Green stripe (Third Line); Brown/White with Brown stripe (Fourth Line). That is how the colors are supposed to be used. That does not always mean that they were used that way in your home.
Twisted pair wires should not be mixed with each other. Back to that whole 'cross talk' thing. Instead always use the pairs together as they come in the cable. One pair, one line, simple, right?
You may run into other types of wire in older homes. When possible you may want to replace older or non standard types of wire. The newer wire is designed for communications and does a much better job.
Types of Telephone Service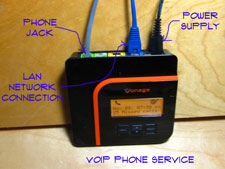 There are different types of telephone service that you may encounter in your home. The type of service affects the wiring that you will have.
Analog – Standard land lines or analog lines are the kind we had for decades. The phone company brings one or more lines into your home via a terminal block. This block is usually located on the outside of your home.
Your internal phone wires are hooked to it and the phones work. This type of wiring has its own power in it. That is how you are able to hear the dial tone. Most new phones with features require more power and have 120 volt adapters attached to them.
DSL – Stands for Digital Subscriber Line. Without getting into tech talk this technology gives you high speed internet over a standard analog phone line. How fast and in which direction it is provided will be determined by the service your phone company provides. In practice, you often get a voice line and a DSL line in one package.
DSL lines are hard wired into your home and use wired jacks similar to the hook up the phones. There is usually a splitter that allows you to separate the phone line from the digital service for the computer.
Wireless – You are still able to have wireless phones in your home if you purchase a set up that uses a base unit. The base unit is hooked to the hard wired phone line and transmits to the other wireless phones. This allows you to put phones anywhere in the home. You can purchase a pretty decent system with three or four phones for less than a hundred dollars.
VoIP – Stands for Voice over Internet Protocol. This allows you to have a telephone that works via a high speed internet connection, usually a cable modem. The advantage to these systems is a lower cost. An adapter is hooked up the modem and usually provides a phone jack. You will need to disconnect the phone company's wiring from any line that is being hooked to the hard wiring in your home. You can burn up the adapter if you do not.
Call Us @ (516)360-0757
For a Free Site Survey & Written Estimate
What is the problem with the phone system?
Digital functions aren't working
Needs reprogramming
Line interference
Can't dial out
Can't dial in
No dial tone
Fast busy signals
Other
Serving the following areas with computer cabling in Nassau County, Long Island, NY:
Glen Cove, Long Beach, Town of Hempstead, Town of North Hempstead, Town of Oyster Bay, Atlantic Beach, Bellerose, Cedarhurst, East Rockaway, Floral Park, Freeport, Garden City, Hempstead, Hewlett Bay Park, Hewlett Harbor, Hewlett Neck, Island Park, Lawrence, Lynbrook, Malverne, Rockville Centre, South Floral Park, Stewart Manor, Valley Stream, Woodsburgh, Baldwin, Barnum Island, Bay Park, Bellerose Terrace, Bellmore, East Atlantic Beach, East Meadow, Elmont, Franklin Square, Garden City South, Harbor Isle, Hewlett, Inwood, Levittown, Lido Beach, Merrick, North Bellmore, North Merrick, North Valley Stream, Oceanside, Point Lookout, Roosevelt, Salisbury, Seaford, South Hempstead, South Valley Stream, Uniondale, Wantagh, West Hempstead, Woodmere, North Woodmere, Baldwin Harbor, East Garden City, Lakeview, Malverne Park Oaks, North Lynbrook, North Wantagh, Baxter Estates, East Hills, East Williston, Flower Hill, Great Neck, Great Neck Estates, Great Neck Plaza, Kensington, Kings Point, Lake Success, Manorhaven, Mineola, Munsey Park, New Hyde Park, North Hills, Old Westbury, Plandome, Plandome Heights, Plandome Manor, Port Washington North, Roslyn, Roslyn Estates, Roslyn Harbor, Russell Gardens, Saddle Rock, Sands Point, Thomaston, Westbury, Williston Park, Albertson, Carle Place, Garden City Park, Great Neck Gardens, Greenvale, Harbor Hills, Herricks, Lakeville Estates, Manhasset, Manhasset Hills, New Cassel, North New Hyde Park, Port Washington, Roslyn Heights, Saddle Rock Estates, Searingtown, University Gardens, Bayville, Brookville, Centre Island, Cove Neck, Farmingdale, Lattingtown, Laurel Hollow, Massapequa Park, Matinecock, Mill Neck, Muttontown, Old Brookville, Oyster Bay Cove, Sea Cliff, Upper Brookville, Bethpage, East Massapequa, East Norwich, Glen Head, Glenwood Landing, Hicksville, Jericho, Locust Valley, Massapequa, North Massapequa, Old Bethpage, Oyster Bay, Plainedge, Plainview, South Farmingdale, Syosset, and Woodbury