Business Wifi Setup Long Island
Best Business Wireless Network Installation
Small business WiFi matters and with the right wireless access point your business WiFi can be as strong as any enterprise WiFi network. There are many factors to consider when choosing the right access point model for your small business WiFi network including cost, ease of use, and capabilities. Not all access points are built the same and the features you may get with one manufacturer may not come with another. Different access points are meant for different purposes and environments and sometimes an access point that's recommended for a bar or restaurant would not be ideal for a medical office or warehouse. If you're looking to upgrade your current business WiFi or looking to build a completely new network, this article will offer some insight into which wireless access point model is best for your business.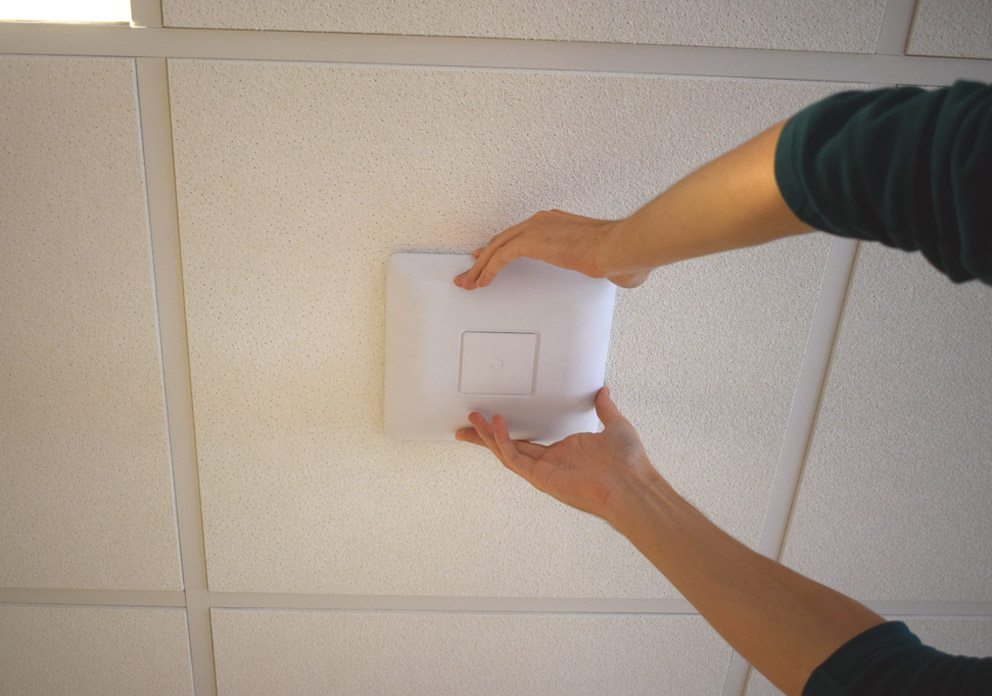 Many enterprise grade access point models require controllers to act as a central brain for all the access points on the network. Some controllers may be on-site while others can be in the cloud. Typically these types of access points may require additional network equipment including routers or firewalls for network management, switches for power, and mounting brackets for ceiling or wall mounting. A small business WiFi network may be more expensive than the cost of a mesh-WiFi system you can get from a big-box retailer but the features and capabilities are very much worth the cost. In most cases, if a business is exploring an enterprise-style WiFi network it is because the max capabilities of a mesh-WiFi system has been reached and an upgrade is needed.
Ubiquiti U6 Long Range Access Point
Ubiquiti is a fan favorite when it comes to affordable WiFi access points for small businesses and their new Ubiquiti UniFi 6 Long-Range does not disappoint. This access point utilizes WiFi 6 technology and can offer data transfer rates of up to 2.4 Gbps on the 5 GHz channel. With 4 x 4 MIMO, this access point can support high speed data transfers to a large number of simultaneously connected devices. In a small business environment where multiple devices are using WiFi for video conferencing or other high bandwidth activities, this access point should perform flawlessly. Ubiquiti's one downfall is their performance in high density environments where a very large crowd is gathered in a small area.
One of Ubiquiti's top selling points is their low cost of entry, easy setup and customization options. A single Ubiquiti access point can work in standalone mode but if more than 1 access point is needed, it's recommended to purchase a Cloud Key controller to act as the brains for the wireless system to allow for seamless roaming and advanced configurations. A simple Ubiquiti system can be configured and monitored from a mobile device using an app available both on the Apple App Store and Google Play. Ubiquiti access points offer a sleek design that can work well in any small business environment but can also be wrapped with custom vinyls for a more aesthetically fitting appearance.
Aruba 303 Wireless Access Point
The Aruba 303 indoor wireless access point packs a punch. Aruba products are designed for small business customers that need to address network complexity and performance while also keeping costs low. The Aruba 303 access point achieves all that with a highly customizable user interface as well as options to support controller-less deployments. This WiFi 5 access point can support data transfer of over 867Mbps on the 5GHz band which is blazing fast and meets the needs of many small businesses customers who are interested in WiFi 6 access points but are put off by the cost of ownership.
This access point is feature-rich and includes dual radio 2 x 2 MIMO for simultaneous high speed wireless activity across multiple devices. The wireless access point features a built-in bluetooth low-energy (BLE) radio which enables location based services and can offer great insights into customer flow or traffic patterns within the area where the access points are deployed. Aruba hardware plays well with cellular antennas as well and uses advanced cellular coexistence (ACC) to minimize interference from cellular network or distributed antenna systems which can be found in certain buildings.
Ruckus R310 Wireless Access Point
For small businesses that want to explore Commscope Ruckus wireless access points, the R310 model is a great entry point. The access point meets all the needs of a small business WiFi network. Its sleek form factor and design make it easy to hide and ideal for businesses that want to use WiFi access points that do not look like alien spaceships. Ruckus products perform great in high density environments and the R310 model is no exception as this wireless access point can support upto 100 concurrent users.
The R310 is a WiFi 5 access point and offers 2 x 2 MIMO. The AP can work with a multitude of controller systems including Ruckus Cloud, Ruckus SmartZone, Ruckus Unleashed, Ruckus ZoneDirector, and controller-less standalone mode. The AP is best suited for an office, retail, or home environment. Ruckus access points can be on the more difficult side when it comes to setup and configuration and may require some technical knowledge to set up properly.
Cisco Meraki MR36 WiFi AP
When it comes to top-of-the-line WiFi access points for small businesses, the Cisco Meraki MR36 model takes the award for our most recommended model. Cisco Meraki is the industry leader when it comes to wireless networking. Their products combine performance, efficiency, security and simple management to offer a robust out-of-box feature set without the complexity or expensive add-ons other manufacturers offer.
The Cisco Meraki MR36 wireless access point uses WiFi 6 and has a 2 x 2 MIMO antenna set. The access point is managed using a cloud controller and is incredibly easy to set up using Cisco Meraki's intuitive cloud platform. This access point is more expensive than the other access points featured in this article but offers the best value from a performance point of view. This truly is an access point of the future and would likely be safe from any upgrade requirements for at least 5 years.
Choosing the right WiFi network hardware for your small business is no easy task and requires plenty of research to determine the best product line for your needs. Enterprise level wireless networks can get expensive quickly so it's important to invest properly the first time rather than pay continuously to fix mistakes. If you are in need of a small business WiFi network but lack the technical expertise to build one out yourself, reach out to the team at TechsonDuty  for a free consultation.
Is your company or business looking for better wifi solutions? We can take your Long Island business network to the next level.  We use the latest technology in Wifi/Wireless access points, wireless routers, repeaters, and wireless networking.
Here at Techsonduty we can come give you a free network evaluation and figure out which wireless solution is best for you company.  .
Wifi/Wireless Access Points
Hardwired/Network Cabling access points
Network Routers
Nassau County Wireless Installation
Wireless SSID password resets
Whether you're in an office, a warehouse, an event space, or at home, you need a strong WiFi system that you can depend on. However, strong and reliable WiFi can be difficult to achieve. We are ready to diagnose your WiFi issues and rectify each one. TechsonDuty is among the most efficient wireless network installation companies in New York and New Jersey area. Bold statement, but we back it up. Our talented team of engineers provide you with the immediate technical insight, support and network equipment needed to resolve any wireless issue.
Poor WiFi can be caused by a number of hurdles. Common culprits that reputable WiFi installation companies should not overlook include:
Radio interference caused by nearby access points or other appliances
Physical obstructions like walls, pillars, doors, or glass
Faulty access points, switches, routers and other wireless network equipment
Improper cabling that prevents the access point from connecting to the Internet, disrupting the signal
Poor positioning within property or improper placement of access points
Good WiFi, on the other hand, stems from proper knowledge and a solid plan. We offers both. Boasting over 15 years of combined experience installing custom wireless network solutions,
In addition to all of the above, we sell equipment suited to the following markets:
Office units and buildings
Temporary events and event spaces
Warehouses
Apartment buildings
Luxury residential
MDUs
Banks & Financial Institutions
Healthcare Facilities
Religious Facilities and Churches
Parks and boardwalks
Garages
Transportation vehicles
Construction sites
Hotel and motels
Retail centers and malls
Our Process Is What Sets Us Apart from Other WiFi Installation Companies in New York
We offer network installation services in New York, New Jersey, Chicago, Miami and other major cities. Our process is as follows: we create a heat map highlighting the exact locations where equipment, such as access points, switches and routers will be placed. We determine how the radio signal will perform in your unique environment. Our talented team can install the wireless network equipment at your location or we can ship it to you preconfigured with instructions on how to set-it-up yourself or with your staff. Not that many WiFi installation companies in New-York or New-Jersey can offer full, white glove service with their installations and cut no corners. All of our wireless network installation services include:
A complete site survey to determine mounting locations for wireless access point installation
Verification of appropriate power capacity and availability
Coordination of all security, safety and insurance requirements
Wireless access point installation and antennae mounting
Placement of weather-rated wireless network enclosures
On-site configuration, including connecting the new WiFi system with existing IP network infrastructure
Post-installation quality assurance coverage and regular connectivity verification